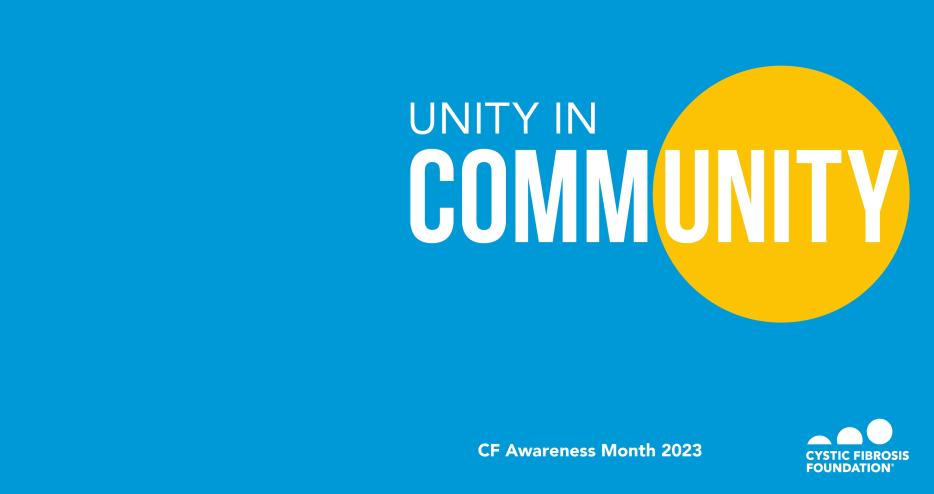 May is CF awareness month, and the Cystic Fibrosis Foundation's  theme for this years' event is Unity in the Community. It's a theme we at patientMpower very much support  –  we know the best outcomes happen when stakeholders collaborate and work together. 
In my role as CEO of patientMpower I've been lucky enough to attend a number of CF conferences this Spring, and as always it was reaffirming to spend time among the CF community.  It's powerful to see what can be achieved when people living with CF, families, advocates, clinicians, researchers, pharmaceutical companies and innovators all come together.
One example of the power of collaborative effort across the CF community was the announcement late last year of the refreshed top 10 research priorities for CF. This was a result of a project run by the Cystic Fibrosis Trust, researchers at the University of Nottingham and the James Lind Alliance.
How to address these priority areas of research formed much of the discussion at the UK Cystic Fibrosis Clinical Trials Conference, held in March this year. The availability of highly effective CFTR modulators have led to a seismic shift in how people live with CF, and with that comes a change in the research questions to be addressed. Among the top ten research priorities identified by the CF community were the questions: "How do we manage an ageing population with CF?"  and "What are the long-term effects of medications (including CFTR modulators) in CF?". These are areas of research we feel the patientMpower platform is well placed to address. The ability of our solution to capture multiple endpoints using just one platform opens up the possibility of powerful longitudinal insights for CF research.
A notable feature of  the unity in the CF community is the way in which members never refer to people living with CF as "patients" or "sufferers" or similar wording. This seemingly small linguistic point is actually hugely significant in creating unity and removing hierarchies and barriers to collaboration.  Something that was very evident in the 60th anniversary celebrations at the Cystic Fibrosis Ireland annual conference earlier this spring!  CF Ireland's mini documentary produced as part of their 60th anniversary celebrations provides a great insight into CF and the role of all members of the community in CF advocacy over the decades.
As the CF Ireland documentary shows, life for PWCF now looks completely different than 60 years ago. But despite the advances in therapy, CF still places a significant treatment burden on PWCF and their families – particularly as the majority now lead lives with work, education or childcare commitments. With research previously showing one in three PWCF miss critical hospital appointments due to the cost of travel, new approaches to reduce barriers to care are key. As part of our role in the CF community, we want to raise awareness of the role remote care can play in decreasing the burden of CF management – so that everyone can lead a life not defined by illness. The remote care programme at Galway University Hospital, for example, reported a 58% increase in adults accessing specialist CF care, with a €898 per year reduction in travel costs.  
The CFTR modulator era may have changed the way people live with CF, but research questions and care challenges remain. We look forward to uniting with stakeholders across the CF community on addressing them!
For any further information on our work in CF don't hesitate to get in touch at info@patientMpower.com