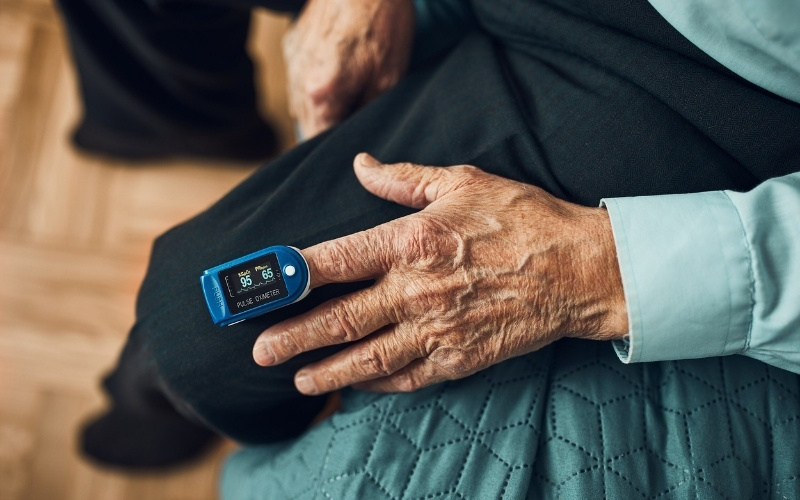 patientMpower's remote monitoring solution supporting GP management of COVID-19 in the community
Use of the patientMpower platform for remote monitoring of COVID-19 across secondary care settings has shown that this virtual healthcare approach improves hospital capacity without compromising patient safety (for published data see more here and here).
In Ireland, the patientMpower for COVID-19 remote monitoring programme was implemented across the majority of hospitals from March 2020. In January 2021, as COVID-19 cases hit an all time high, the national roll out of the patientMpower remote monitoring programme was extended across the Irish health service and made available to all primary care practitioners.
There was a rapid uptake of this service among primary care practitioners. To date over 7,000 pulse oximeter devices have been provided to 479 GPs to support remote assessment of oxygen saturation in patients with COVID-19. This approach has a number of advantages. A key concern with COVID-19 is the risk of silent hypoxia; remote monitoring enables early detection of declining oxygen saturation, ensuring rapid patient triage at the first signs of patient deterioration. It also enables GPs to continue to manage less severe patients at home, avoiding emergency department referrals and reducing pressure on hospital services. Furthermore, home monitoring limits the risk of virus exposure for healthcare professionals, who may otherwise need to perform face to face patient assessment.
A survey of Irish College of General Practitioners (ICGP) members provides extremely positive feedback regarding the use of remote monitoring for COVID-19 in primary care. Survey responses from 100 GPs showed:
98% reported that home pulse oximetry was essential or extremely helpful
82% reported that it had helped avoid emergency department referrals
92% reported that their use of home pulse oximetry would increase in the future
There was also a desire for more guidelines on home pulse oximetry in primary care, with 80% of GP requesting this.
Experience from the community COVID-19 remote monitoring programme has demonstrated that home pulse oximetry is both feasible and valuable in primary care settings. As well as COVID-19, we continue to work with primary care providers to integrate remote monitoring into the community management of other medical conditions including COPD, asthma and sleep apnoea. To learn more, please get in touch using the form below.
About patientMpower
patientMpower is an experienced provider of virtual care solutions for a number of respiratory, kidney and heart conditions including COPD, idiopathic pulmonary fibrosis (IPF) and other interstitial lung diseases (ILD), lung transplant, cystic fibrosis (CF), kidney transplant and heart failure.
If you have any questions or would like to find out more about patientMpower contact us using the form below, or book in for a product demo with a member of our sales team at your convenience here (US time zones book here).