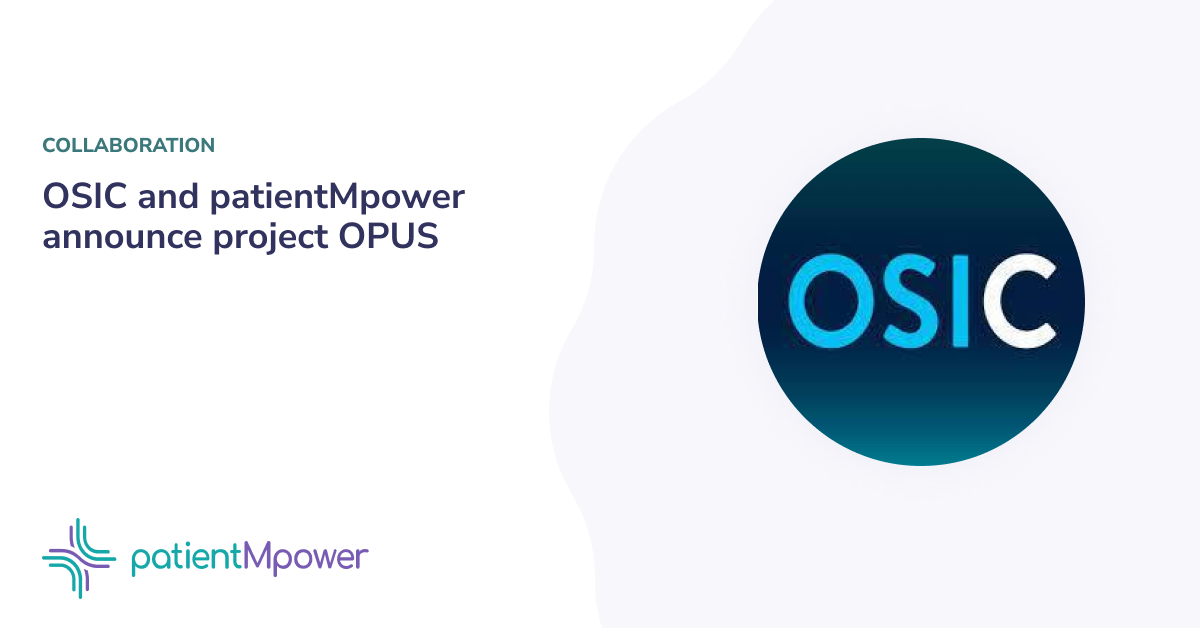 The Open Source Imaging Consortium (OSIC) and patientMpower announce Project OPUS, a new collaboration in the fight against interstitial lung diseases (ILDs). 
Imagine receiving a diagnosis of a life-limiting medical condition. After the initial shock, the obvious question arises. "How long do I have left?" But the reality for people diagnosed with interstitial lung disease (ILD) is that this question is almost impossible to answer. Whilst people with idiopathic pulmonary fibrosis (IPF), the most common form of ILD,  survive on average for 3-5 years after diagnosis this can vary from just a few months up to a decade, or even longer. This uncertainty not only impacts patients and their families, but also means the clinical management of ILD is complex, requiring respiratory specialists to closely monitor patients in order to tailor treatments as the disease progresses.
Uncertain prognosis is just one of the many unmet needs in ILD that the global, 501(c)(3), not-for-profit organisation Open Source Imaging Consortium (OSIC) aims to address through research and collaboration. OSIC brings together radiologists, clinicians, computational scientists, and industry stakeholders from around the world to enable rapid, open source advances in the detection and diagnosis of IPF and other ILDs through the use of digital imaging and machine learning. The OSIC Data Repository, which launched last year, is the largest and most diverse ILD database in the world, with a 2022 goal of acquiring 15,000 anonymized scans, with accompanying clinical data.
During the 2022 European Respiratory Society International Congress, OSIC and digital healthcare company patientMpower jointly announced Project OPUS, a new collaboration set to further expand the OSIC Data Repository with ongoing longitudinal data. patientMpower specialises in remote patient monitoring solutions for chronic respiratory diseases, including ILD, and through this collaboration the OSIC Data Repository will now incorporate prospective home monitoring data on patients' lung function and other patient-reported outcome measures.
Spirometry, used to assess lung function, is a key predictor of disease progression in ILD. Understanding the relationship between spirometric findings, patient reported measures, and lung imaging data may be key in helping develop models and algorithms for accurate disease prognosis and prediction of treatment outcomes. Data indicates that frequent home spirometry is a more powerful predictor of prognosis than hospital based spirometry – a key advantage for the patientMpower remote monitoring platform.
Project OPUS will begin enrolling patients in spring 2023, and will work closely with patient groups around the world throughout the course of the study. Ultimately it is hoped that these collaborations will enhance the prediction of disease prognosis in ILD, improving the clinical management of this devastating condition and helping patients and their families better plan their time together.
About patientMpower
patientMpower is a specialist provider of digital care and clinical research solutions in chronic respiratory disease, including interstitial lung disease, cystic fibrosis and lung transplantation. The patientMpower platform combines home monitoring of objective and subjective measures, with data insights and patient-tailored alerting features for the early identification of complications. Their solutions enable clinicians to deliver high quality patient-centric specialist care and empower patients to better manage their own conditions. patientMpower work with leading clinical centres and research institutions across Europe and the US.