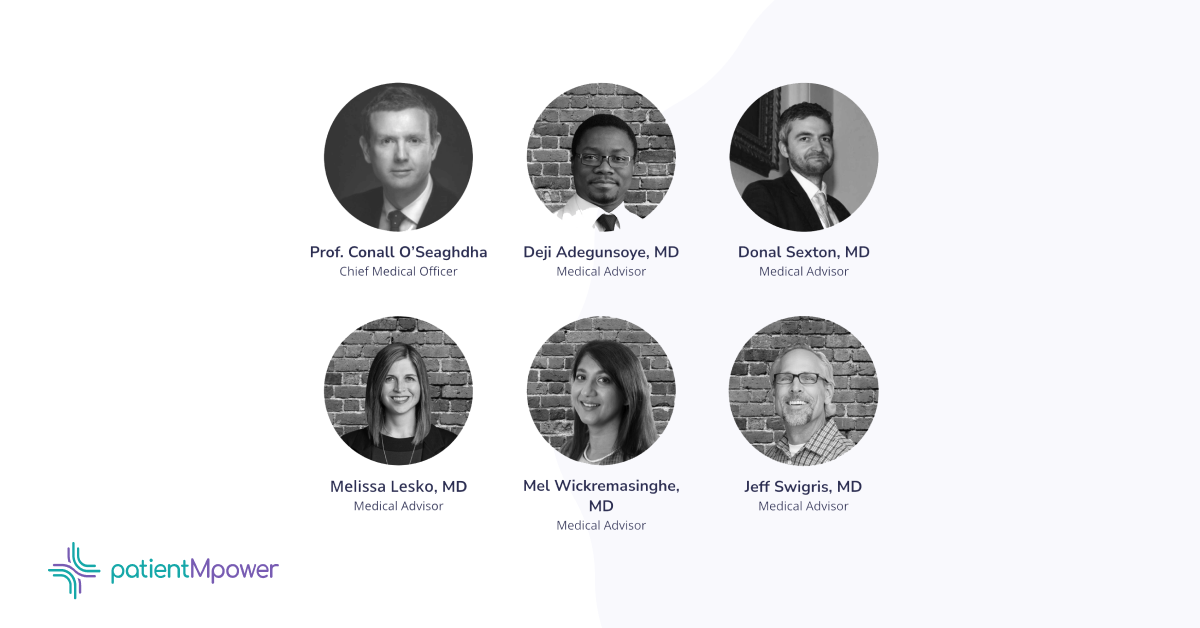 New advisory panel members comprise clinical experts in interstitial lung disease and lung transplantation.
We are pleased to announce the establishment of a clinical advisory board for patientMpower, and are proud to welcome Dr Ayodeji Adegunsoye, Dr Melissa Lesko, Prof. Jeff Swigris and Dr Melissa Wickremasinghe to our panel of advisers.  
This panel of leading clinicians with specialist interests in interstitial lung disease (ILD) and lung transplantation join Prof. Conall O'Seaghdha, Chief Medical Officer and existing medical adviser Dr Donal Sexton to form our core clinical advisory board. This group, along with additional external experts from other fields and disciplines as appropriate, will help guide and inform our product development and research strategy. With randomised controlled trials of patientMpower technology versus standard care currently ongoing, the advisory board will also play a key role in translating the clinical implications of our future evidence base.    
We look forward to the panel's feedback and insight as we develop our specialist technology and deliver on our mission to enable patient-centred care and powerful research insights through digital innovation. 
patientMpower welcomes; 
Dr Ayodeji Adegunsoye, Assistant Professor of Medicine, the University of Chicago, IL
Dr Adegunsoye is Assistant Professor at the University of Chicago, and is a specialist in pulmonary medicine and critical care at UChicago Medicine. A key focus of Dr Adegunsoye's research is clinical prediction models in ILD, where his research aims to find clinical solutions that improve survival and prevent lung function decline, using epidemiologic and translational approaches. Much of his current work has centred on evaluating outcomes in pulmonary fibrosis for patients of different races, and utilizing genetic information across races to improve clinical decision-making and outcomes for all patients with pulmonary fibrosis.
Dr Melissa Lesko, Pulmonologist at NYU Health, New York, NY
Dr Lesko is a pulmonologist specialising in lung transplantation at NYU Langone Health. Her clinical focus is on patient care pre-and post-lung transplantation, with the aim of helping patients enjoy an optimal quality of life and return to their families and daily activities as soon as possible after transplantation. She also has an interest in telemedicine and remote patient monitoring to enhance patient care. The NYU Transplant Group has authored over 25 publications on lung transplantation, including research on factors affecting patient outcomes and approaches for optimal patient management. 
Professor Jeff Swigris, Pulmonologist at National Jewish Health, Dever, CO
Prof. Swigris is a specialist in interstitial lung disease and is faculty in the Center for ILD at National Jewish Health in Denver, CO. His research focuses on exploring how patients live with and experience ILD. He has led the development of a number of patient-reported outcome measures (PRO), notably the Living with Pulmonary Fibrosis (L-PF) questionnaire and ATAQ-IPF (A Tool to Assess Quality of life in IPF).
Dr Melissa Wickremasinghe, Respiratory Consultant, Imperial College Healthcare NHS Trust, London
Dr Wickremasinghe is the Trust Lead for ILD and Sarcoidosis at Imperial College Healthcare NHS Trust. She is the Transformation Chief Clinical Information Officer at ICHNT. Her research interests include supporting self-care and management using digital technology. She was Principal Investigator on a clinical trial investigating the utility and acceptability of patientMpower technology in patients with ILD.