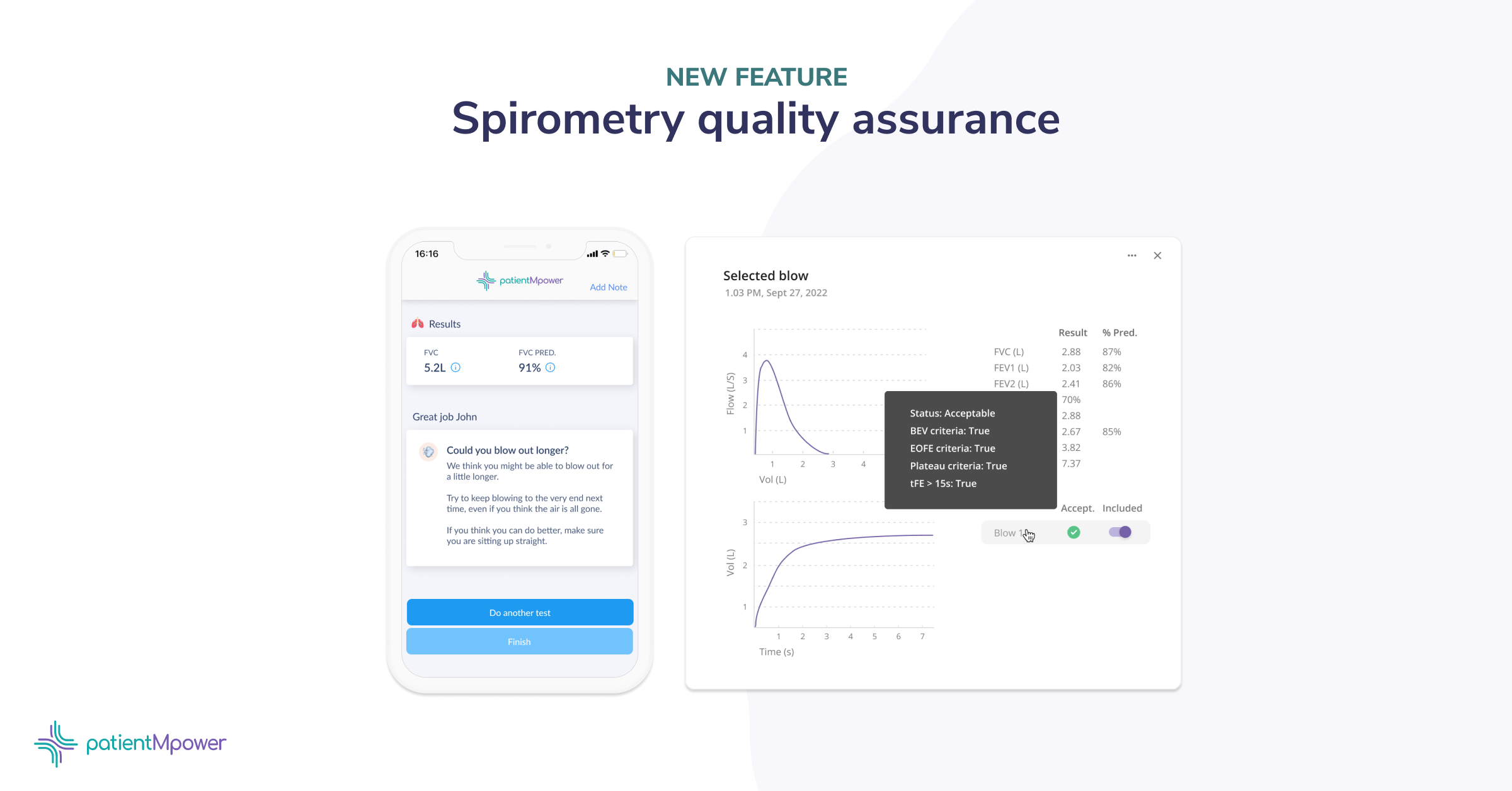 At patientMpower, we focus on delivering continuous innovation to improve patient centred respiratory care and research. So we are really excited to be releasing a brand new feature for the patientMpower platform; automated quality control for home spirometry.
Powered by innovative artificial intelligence software, developed by our partners ArtiQ, this new functionality will facilitate greater use of more patient-centric approaches to care and research for chronic respiratory conditions.
Home spirometry offers many advantages to routine in-clinic assessment for monitoring of patients with chronic respiratory conditions. It has been shown to reduce the need for in-person hospital attendance, enable earlier identification of disease complications and progression and release hospital spirometry capacity for those with urgent care needs. Despite these advantages, concerns regarding the reproducibility of home spirometry data has limited the uptake of this approach among some clinicians and researchers. The predominant issue is that spirometry is an effort-dependent test, and that the expert coaching of patients provided by respiratory physiologists during in-clinic assessment is not available in home settings.
In research and in real-life clinical audits, it has been repeatedly demonstrated that patientMpower captured home spirometry is well correlated with clinic assessment. But our new QC feature further increases confidence in home spirometry data, providing automated quality control assessment of every spirometry blow, validated according to ARS/ERS standards.
Here we focus on the implications of this capability for patient care and research, but you can learn more about how the QC feature works here, or contact us at info@patientMpower.com for an online demo.
How does our new QC Feature reduce spirometry variability?
Without oversight by a respiratory physiologist, a concern regarding home spirometry is intra-patient variability and the extent to which a concerning reading or trend is due to patient spirometry technique rather than a "real" change in a patient's lung function.
With our new QC feature patients now receive real-time feedback at the end of each spirometry test. In-app messages provide encouragement and advice for how to improve technique on a repeated test if a blow does not meet ATS/ERS standards, or praise and reinforcement of good technique following a blow that meets required standards. Patients are therefore empowered by direct feedback to achieve good spirometry technique, which over time helps ensure reproducible blows with reduced intra-patient variability.
Some of the feedback messages from the patient-facing app
At the same time clinicians and researchers receive validation reports for each spirometry test, to determine if ATS/ERS standards were met. This gives clinicians and researchers to discount blows which do not meet standards, reducing the possibility of "false alarms" or errant clinical data collection. We are also developing an additional feature which will flag to clinicians patients who continually have difficulties with spirometry technique (recording blows that do not meet ATS/ERS standards on consecutive occasions). This will enable intervention for additional spirometry instruction and coaching.
This means that clinicians and researchers can now have confidence in the quality of home spirometry data collected via the patientMpower platform. For patient care, healthcare professions can trust the validity of home spirometry data for clinical decision making. In research settings investigators can rely on home spirometry results to assess changes in lung function without compromising on data quality. This opens up the possibility of more widespread use of home spirometry in respiratory clinical care and research, enabling the many advantages of this more patient-centric approach to lung function monitoring to be realised.