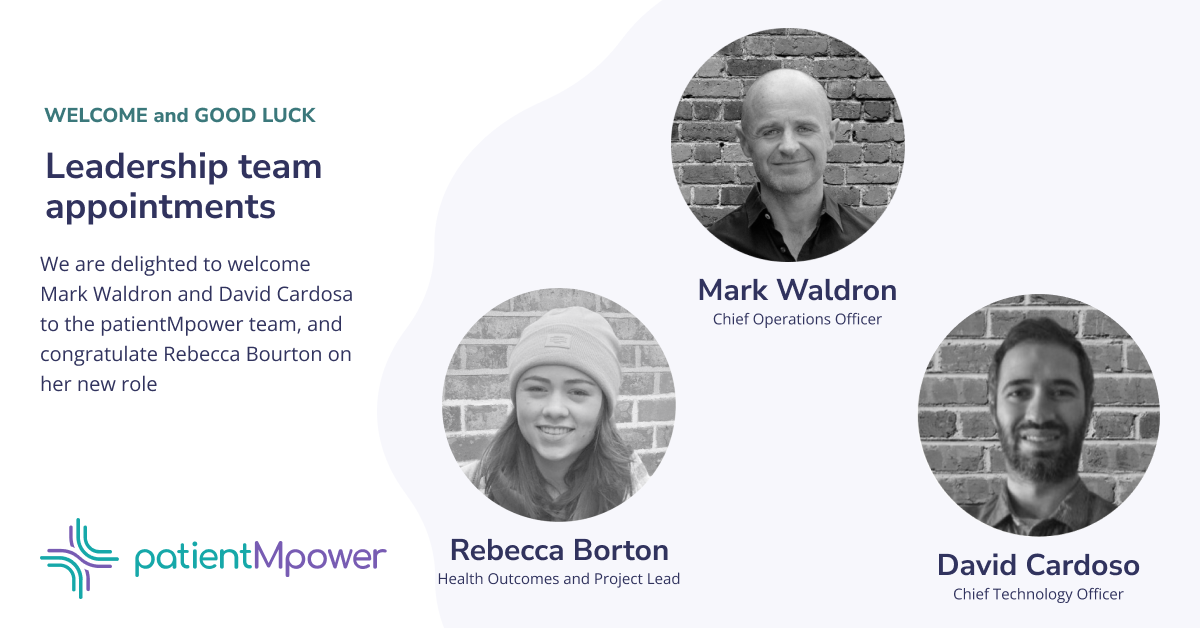 We are excited to announce a new line-up for the senior leadership team at patientMpower. The recently appointed team represents a new era for patientMpower, reflecting our transition from "start-up" to a fully established digital healthcare company. Driving digital innovation to enable patient-centred care remains the key focus of our company, and under the leadership of this team we look forward to further product development and growth in new markets and indications.
We welcome the appointment of Mark Waldron to the newly created role of Chief Operations Officer. Mark, a fellow of the Institute of Chartered Accountants in Ireland, joins us with a wealth of commercial experience in both start-up enterprises and large corporations. Mark's appointment as COO will enable CEO Eamonn Costello to relinquish previous operational responsibilities in order to focus on driving company growth and investment.
David Cardoso joins the team as Chief Technology Officer. David's previous experience in leading technological innovation for other international digital healthcare organisations is already proving invaluable as we deliver significant new functionality for the patientMpower platform.
Rebecca Borton moves into the position of Health Outcomes and Projects Lead, overseeing our clinical trials programme as we continue to build a strong evidence base for the patientMpower platform. Rebecca is in the final stages of obtaining a Masters in Public Health, where a key focus of her academic research is how to address healthcare inequalities.
It is with very mixed emotions that we announce the retirement (at least from full time work) of our Chief Scientific Officer and co-founder Colin Edwards. Whilst Colin will step down from a senior leadership position, we will continue to retain his knowledge and experience as an external adviser and consultant. Colin was instrumental in the establishment and on-going success of patientMpower, and we would like to thank him for his dedication and unerring judgement as we introduced digital innovation to the world of healthcare.
Continuity in the leadership team achieved through ongoing roles for Amy Boulstridge, as Head of Marketing, and Edel Lynch, as Head of Product.
Commenting on the announcement of the new leadership team CEO Eamonn Costello said; "I am extremely proud of the team we have here at patientMpower. Each and every member plays a key role in helping to improve the lives of people living with long term conditions. When we first established this company eight years ago it would have been impossible to imagine the transformation in healthcare that has been achieved in that time. But this is just the start, and we are really looking forward to an even brighter future – for both us as a company and equally for the clinicians and patients we support."
For further information on patientMpower please get in touch at info@patientMpower.com